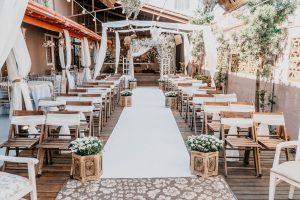 Ibiza wedding venue is the start of your wedding planning. Before anything you need a place to marry and the possibilities are endless if you know where to look. What type of wedding are you looking for? What kind of wedding are you picturing within your mind? A beach wedding is the most popular choice for many and Ibiza has got a good selection of beach venues. Other options are venues on cliff tops with excellent views across the sea or countryside. See fantastic sunsets across the calm seas or across the exotic landscape of Ibiza. A new edition to our website is Cardamom Beach Venue which is located right on the beach and with Cardamom Events wedding planning team behind this, you cant go wrong. Another great option is San Miguel Balansat fish restaurant right on the main beach of San Miguel. Another option which is located on a small beach in Es Cana is Jacaranda Lounge.
There are a number of good venues on the Island of Ibiza and all have something unique and some of these venues are more than just a wedding venue. A lot of country hotels on the Island work as a wedding venue so they can accommodate as well. Take a look at Can Gall
Another good option is a top class restaurant like Casa Colonial who are well prepared for a good wedding.
Depending what kind of atmosphere you want for your wedding in Ibiza like Sunsets, Beach, Country side, mountain top, private villa, hotel or even on a boat, Ibiza wedding venues could be anywhere on the Island that you want. Ibiza wedding venues there are a number one things to think about when you have your wedding on Ibiza. Choose carefully and do pay a visit to the venue before your special day, check out the atmosphere to see if its right for you.
A number of  Ibiza wedding venues are dedicated to weddings and weddings only,  they are well organized and know the business. Consider well established restaurants who will give you the run of the whole restaurant just for your wedding. Restaurants will convert into Ibiza wedding venues quite easily. Some hotels and private villas on the Island will also hold your wedding.  Hotels are an excellent venue because of all the facilities within the hotel and if a private villa then you have complete privacy. A perfect Ibiza wedding venues for your blessing ceremony could be in our list below.
Click here for a full Ibiza Wedding Venues list : Ibiza wedding venues